Twenty years ago, you had to wait for publishers to create a Cartel for you. J.K. Rowling didn't need to have a community of writing friends because she had Bloomsbury to build it for her. We're going back to the days of Mary Shelley and Ernest Hemingway, where if you wanted to be a writer, you needed a Cartel. Even for most published authors, it's up to you.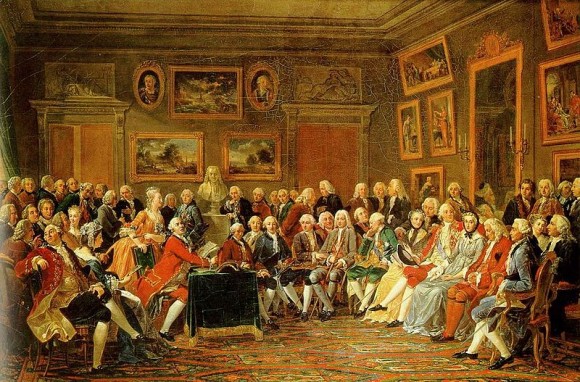 Rather than be weighed down by the extra work you have to do as an author, you can look at it as liberating. You have more control over who you work with and how you work than ever before.
And because of that, you can make more connections and deeper connections than ever before. Instead of a book factory, you can create a literary salon.
Who You Should Create Relationships With
It's just as important to know who to connect with as it is to know how to connect with them. As John D. Rockefeller said, "A friendship founded on business is better than a business founded on friendship."
Here are five types of people you should develop relationships with.
1. Other Writers
Other writers aren't just your competitors, they will be your teachers, your inspiration, your editors, and your promoters. I've found most authors to be kind, humble people who will readily answer your questions and offer their help, especially if you are humble and kind in return.
Two things authors are almost always willing to talk about: the writing craft and what they're working on next. Higher profile authors can be very difficult to reach, but independent and even midlist authors can often be reached by email through their website.
2. Bloggers
Bloggers often have huge influence over their audiences, and they are almost always eager to connect with other writers. Bloggers usually want three things: traffic, links to their blog, and good content. You can connect with them by guest posting on their blog, interviewing them for your blog (and linking to theirs), and sending them traffic by sharing their posts through social media.
They best way to reach out to bloggers is through email or Twitter. However, the higher profile the blogger has, the more email he or she gets. Be sure to be brief and get to the point quickly.
3. Publication Editors
Editors of newspapers, magazines, literary journals, and publishers are gatekeepers, which makes them both incredibly busy and very difficult to get in touch with. However, you can learn more about writing from editors than anyone else because they have to teach the best writers how to write better every day. They also know more people in publishing than almost any writer.
Editors are behind the scenes kind of people, and thus, unlike the writers they work with, their talents rarely get exposure. If you want to get to know an editor, I've found that they're very open to being interviewed, especially if it will increase the exposure of the publication they work for.
Editors can usually be reached through email, but like bloggers, be sure to be brief.
4. Freelance Editors
If you're thinking about self-publishing, it's essential to get to know freelance editors. You will want to hire them in the future to edit your writing.
You can find them on Twitter and Facebook and in the blogosphere. Freelance editors often run writing blogs as a way to get exposure for their services. They rely on a constant stream of new clients, so they will always be interested in free exposure if you want to interview them for your blog.
5. Designers
A book isn't a book without a cover, and unless you're an expert, you'll want to work with a designer. We talked about the importance of professionally designed book covers in unit one, but even before you share your story, it's a good idea to begin courting cover designers now. They can often be found through Twitter and in the blogosphere.
To start building relationships with people like this, head over to the next lesson where we'll talk about an easy, effective way to build your cartel.
Do you like helping other writers? How do you prefer that they connect with you? Let us know in the comments below.
Want to know how to us Twitter and other tools to connect with important people online? Move on to the next lesson to find out.